Welcome to our policy page.  It is always wise to be familiar with what rules and regulations apply to a product that you're purchasing.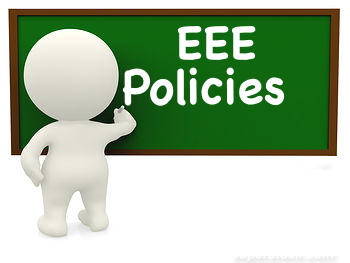 If you have any questions at all, please call the office for a deeper understanding.
Pricing and Payment policy:
You, as the customer of EEE, are responsible and obligated to pay for any project submissions, unless you call and retract your project submission by phone and send a retraction in writing via email, before your estimate is completed.  Once the estimate is complete you are responsible for the payment in full.
There is no way to determine the exact cost of an estimate before the project has been completed, that is why it is so important for you, as the customer to be familiar with the pricing of estimates and that this is determined based on the estimate total.  To see the pricing breakdown and to read how payments work in detail click here.
If you work for another contractor and have put his/her name on the billing portion of the "New Client Form", it is your responsibility to make sure that the contractor is aware and that the payment is made.
If the card on file is charged, but declined, then you or the company owner have 30 days to pay the debt by a different credit or debit card, a paypal transfer, or a written check/money order.  After 30 days, unless it's been discussed and resolved with some sort of payment plan, your debt will be sent to collections to be dealt with accordingly and your estimate may be deleted from the system.  Eagle Eye Estimates is a fully functional estimating company, with a staff of employees that must be paid, therefor, debts are taken seriously and must be taken care of promptly in order to continue providing this great service.  After multiple offenses where an estimate is not paid for within the 30 day period, you will then be obligated to pay a deposit ahead of time, in order to initiate a project submission.  That deposit is to be determined by management.
Revisions:
Revisions are given as a courtesy with the purchase of your estimate.  Revisions that come with the cost of your estimate, are those based on the information that was originally submitted with your project submission.  You cannot come back later and add documents, details, or pictures and expect for those to be added at no charge, as this will often massively increase the amount of line items and the estimate total, causing a rather small estimate to jump into another pricing bracket.  You are our eyes and ears in the field, sometimes there are a few things lost in translation.  Certain things can be changed on your estimate within reason, that will help it to properly reflect the actual damages there on the job site.  These revisions are often called "tweaking".  It may include deleting some things that weren't necessary, adding a few things that should have been there, or changing pricing or measurements on some line items.
Revisions must be completed within 2 business days of receiving your estimate. We expect you to review your estimate within this time frame to make sure that everything is correct and how you want.  After 2 business days, Eagle Eye Estimates is no longer responsible for completing revisions to your project free of charge. Revisions that will need to be made to a project with additional information or after 2 business days can be resolved by supplementing.  Send your supplements in on the same form as the revisions, simply bubble in "Supplement" instead of "Estimate Revision".
Insurance Consultation:
Along with revisions, insurance consultation is a service that we provide that is included with the price of your estimate.  Though we offer in-depth consultation to you and the property owner throughout the duration of your project as a separate service, the consultation that comes with your estimate is limited.  This consultation is a courtesy that is given to educate and help direct you and the property owner in ways to maximize the tools available for negotiating with the insurance company.  It is now illegal in many states for the contractor to negotiate claims for the property owner, but it is not illegal to discuss options and tools with them, so that they can negotiate for themselves, or move forward with appraisal or Public Adjusting representation.
This consultation can include the property owner, the contractor, the sales rep., or any persons deemed appropriate by Eagle Eye Estimates, the contractor, and property owner who would like to be included.  We offer in-house consultation, but most of the time a conference call will suffice.  These consultations are limited to one per project submission and understandably should not exceed 20 minutes.  If you or the property owner would like additional guidance, we are happy to provide that service; simply call the office and set up a time to speak with one of our Public Adjusters.
Estimate and Data Storage:
Eagle Eye Estimates is not responsible for holding on to your estimate for months beyond the estimate delivery.  Lots of times we are able to find older estimates in our archives or email system, but you are NEVER guaranteed virtual storage of your estimate.  It is your responsibility to save your estimate within your own computer and or database.  You will receive your estimate via email.  We suggest that you do not delete your estimate emails, but forward or move them to another email or folder where you keep important documents.  Eagle Eye Estimates proudly generates a high number of estimates each month for our customers, and are restrained by database storage to only hold on to what is new and necessary.  Likewise, we are unable to store your submission information.  Aerial reports, pictures, and insurance documents that were submitted to help write your estimate can sometimes be located within the system, but again, it is not a guarantee.  Aerial reports cost money, and they should be secured within your account or personal computer files.